Greenlight Your Film Career in One Year: CCF Virtual Open House
December 6 @ 7:00 pm

-

8:00 pm

Free
Join our virtual open house to learn more about Maine Media College's Certificate in Collaborative Filmmaking (CCF).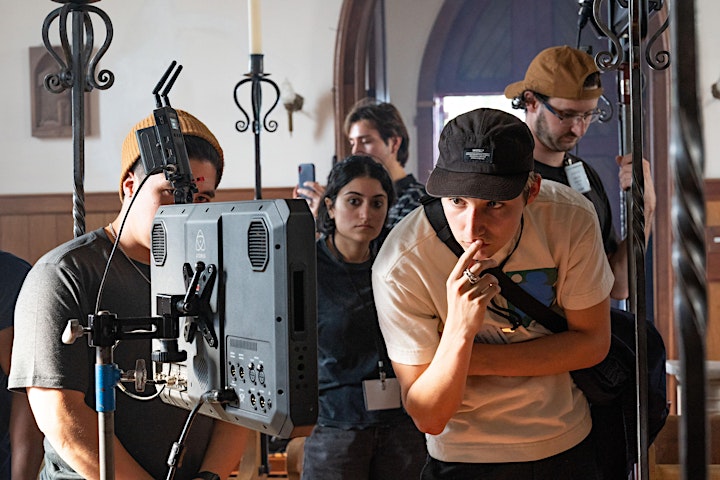 Greenlight your film career in one year. Join our virtual open house to learn more about our Certificate in Collaborative Filmmaking (CCF).
Through this interactive Open House, you will learn how the Certificate in Collaborative Filmmaking (CCF) program at Maine Media College provides participants an intense hands-on, creativity-driven entry into the film, television and web media industries.
Meet with Wayne Beach (Film Program Chair), and CCF students to learn first-hand about this intensive, immersive experience. Once registered you will receive an email from Maine Media with a Zoom link on the day of the event.
Who Should Attend
Individuals seeking an alternative to the traditional four-year film degree.
College graduates seeking the expertise, skills and connections to get started in their career.
Mid-career professionals pursuing a career change.
Filmmakers looking to expand their skills and deepen a knowledge of their craft in Directing, Editing, Screenwriting, Cinematography, Documentary, Production and Audio.
CCF: A Film Certificate Program Instructed by Industry Professionals
Throughout the program, students will explore new modalities of expression in order to broaden their artistic range, strengthen their skills and techniques, and experience the dynamics of collaboration. Students work at close range with instructors who are also experienced professionals in the craft areas they teach, and they will have access to standard industry equipment with which to work. Instructed by accomplished industry directors, writers, cinematographers and editors, students will also learn the nuances of navigating the industry as a professional.
The many filmmakers who have trained in workshops and classes at Maine Media include Academy Award-winning directors Alejandro González Iñárritu (back-to-back Best Director Oscars for Birdman and The Revenant) and Laura Poitras (Best Documentary Feature – Citizenfour); Emmy-winning director Michelle MacLaren (Game of Thrones, Breaking Bad, Better Call Saul, The X-Files, and The Walking Dead), actor/writer/producer John Leguizamo (Bloodline, Ice Age), and Oscar-nominated cinematographer Rodrigo Prieto (Brokeback Mountain, Babel, The Wolf of Wall Street).
What Our Students Think
"CCF is hands-on in the sense that you're making a lot of work and crewing on a lot of shoots. But it's hands-off in that it gives you the freedom to choose the path you want. In this process, I've gained the confidence to see a project through from start to finish."
— Ashwin Raghu, CCF 2022
"Before studying at Maine Media Workshops + College, I was largely self-taught. This was good for a while but I eventually decided that I needed more. The CCF program provided all the support and hands-on experience I could have ever wanted. The one-on-one mentoring I received went well beyond my expectations. With the work I was able to do in the CCF program, I was accepted into a competitive graduate program on a significant scholarship. I came away from the program with a stronger portfolio, larger network, and the knowledge and confidence to continue my creative career."
– Eric Butler, CCF 2020
Learn more about the CCF program at Maine Media College.