Artist and Writer Cig Harvey to Receive Maine Media's Visionary Award
September 30 @ 5:00 pm

-

8:00 pm
Maine Media's Visionary Awards Dinner will honor and celebrate artist Cig Harvey and the 2023 Arnold Newman Prize winner.
The Maine Media Visionary Awards Dinner is an exciting event recognizing the most innovative and creative minds in the media industry. Join us on Saturday, September 30th at 5pm at The Edge in Lincolnville hosted by Gail and John Bertuzzi for an unforgettable evening of celebration. This year's Visionary Award will honor the highly esteemed British artist and writer Cig Harvey the winner of the 2023 Arnold Newman Prize.
Our Visionary Award honorees are pioneers in their respective fields, pushing boundaries and redefining what is possible in media. The awards ceremony will take place over a delicious sit-down dinner, where you'll have the opportunity to engage with like-minded individuals and converse about the latest art trends.
Don't miss this chance to be part of a community of visionaries who are shaping the future of media. Secure your spot now to attend an event that promises to be both inspiring and entertaining. All proceeds benefit Maine Media's mission to educate and encourage visual artists and storytellers to achieve their creative potential.
For more information on purchasing tickets or a table, email [email protected].
If you are unable to make it to the Visionary Awards Dinner, please join us for an evening of celebration with Cig on Thursday, September 28th at Dowling Walsh Gallery and The Strand Theatre.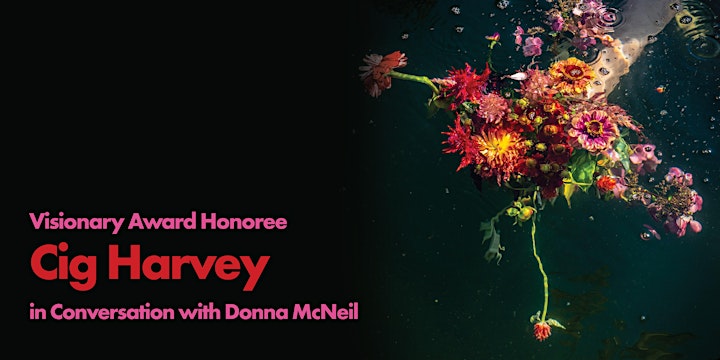 Visionary Awards Dinner Sponsors
Thank you to our generous sponsors for their support of the Visionary Awards Dinner.
Ann Ramsay Jenkins
John and Gail Bertuzzi
Marilyn Moss Rockefeller
Ellen Slotnick
Richard Morgan + Charlie Smith
The Visionary Awards are also proudly sponsored by: